While virtual fundraising was already gaining traction pre-pandemic, it certainly became a dominating force during the pandemic. Many nonprofits were compelled to become experts on virtual events and online fundraising overnight, and many found themselves pleasantly surprised when their virtual fundraisers helped them raise more than in-person events.
Virtual options can be particularly helpful when fundraising for education, as they allow you to reach out to supporters of your students who may be further away, such as aunts and uncles, grandparents, and family friends. They also give you a unique opportunity to get the family members of those students to make a recurring donation. These recurring donations can really add for education nonprofits, since monthly donors give 42% more in one year than one-time donors!
So if you're looking for virtual fundraising ideas for schools, you're in the right place! Here are ten tips to help you succeed with virtual fundraising for education:
1. Use Data From Past Events to Set New Fundraising Goals
One of the most important steps you can take when planning your next fundraising event is to look at your past fundraisers to see what went right … and what could be better.
For example, if you had to switch to a virtual silent auction at the last minute in 2020, review your results to see which elements worked and which didn't. If only half of your items had bidding competition last year, maybe you'll want to try adding push notifications this year so that bidders know when someone has outbid them.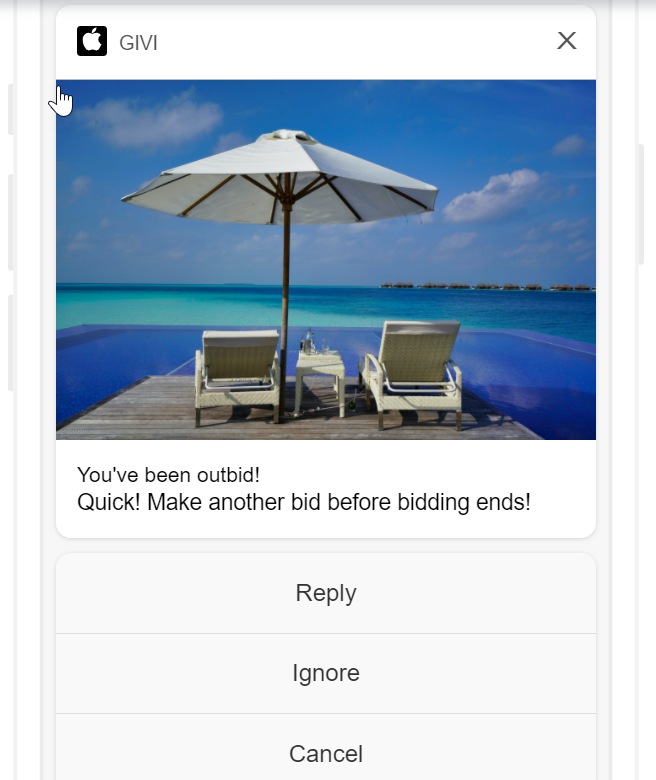 In contrast, you can also use this information to make sure you have to right items for your audience. If a vacation package did really well, you'll want to try and secure another package for your next event. But if gift baskets consistently received no bids, then you may want to find different items to replace those.
While there are certainly some best practices in fundraisers, looking at your data can help you see what's working best for your nonprofit, because every nonprofit is unique. Knowing how your fundraising campaigns have performed in the past is the first step to pushing yourself and seeing where your nonprofit has the potential to grow. Use that data to set (and achieve) SMART goals for your nonprofit fundraising efforts!
2. Don't Be Afraid to Get Creative
Keeping track of your data can free you up to be more creative with your fundraisers! After all, if you have a starting point, it's much easier to track your metrics and see if new elements are working, making it easier to tailor your fundraiser directly to your community's needs.
One great example of this is the Free Teacher Market from the Polk Education Foundation. The Polk Education Foundation created this fundraising campaign to meet the unique needs of their students and teachers in Polk County, FL, which already offers free breakfast and lunch to every student in the county.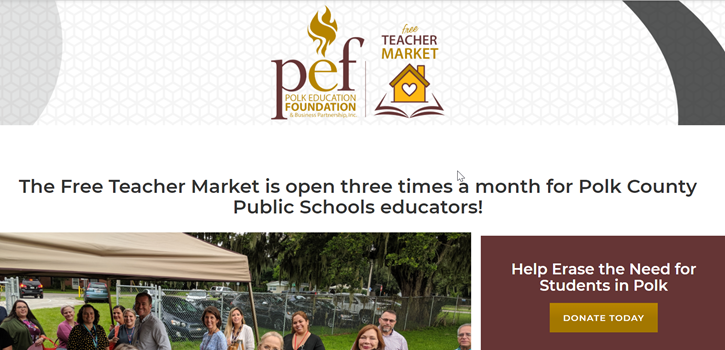 To make sure school supplies aren't out of reach for any student, they created the Free Teacher Market to help "Erase the Need" for local students. They also made sure donating was accessible by accepting both monetary and in-kind donations, ensuring that businesses and other groups have more ways to help.
Family fun days are another creative fundraising that we see. Crossroads School had so much success with taking their 5K and Family Fun Day virtual event that they're doing it again this year … and they've increased their fundraising goal by $20,000 because it went so well last time.

City Year Baton Rouge also went all out with a virtual fundraising week. They planned a variety of events ranging from Twisted Trivia to an On The Geaux Scavenger Hunt to a full-on concert! There was something to interest any supporter, and this attention to detail led to them raise over 60% of their fundraising goal … before their event even happened. Their final tally came in at 115% of goal due to their engaging event (and amazing supporters)!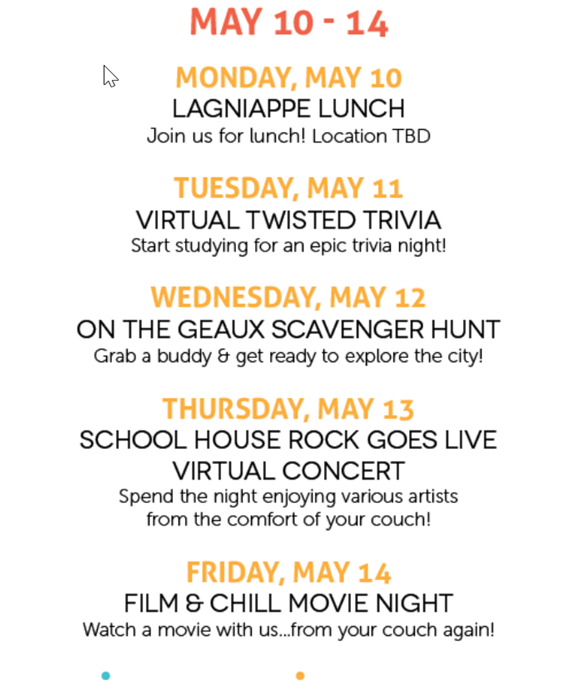 These are three of the creative ideas we've seen come out of education nonprofits in the past year … the possibilities really are endless! We've seen everything from completely fresh "Choose Your Own Adventure" type fundraisers to new takes on classic school events that combine typical school events like spelling bees, show and tell, brain bowls, and talent shows with fundraising. Your nonprofit could even create new twists on these classic ideas, like turning show and tell into a virtual pet pageant for the ages.
Once you've brainstormed your best event ever, check out the virtual event planner to help you pull it off without a hitch!
3. Set Your Nonprofit Up for Success with the Right Fundraising Tech
Coming up with an amazingly creative fundraiser won't help you reach your goals if your technology crashes and burns … or is too complex for your participants to enjoy using.
Your first step is to choose a fundraising platform that is both easy-to-use, and let's your donors participate in the way they choose.
For example, if you're running a peer-to-peer campaign, make sure your platform allows fundraisers to customize their individual pages so they can explain why they aren't participating. If you're running an auction, make sure your participants are able to bid from a mobile app … or their computer, if they choose. Even if you're choosing a simple event registration form, you'll want to make sure your form is mobile-friendly and allows you to send an automatic follow up email that not only thanks the registrant, but also confirms event details.
You'll also need a livestream for a virtual event, and you want to go with something that's simple to set up and very reliable. Facebook Live and YouTube Live are free options that your participants will be used to. If your event targets gamers or a younger audience, Twitch might be the perfect option. Finally, OBS is a more robust option that's sponsored by all three of the platforms listed above.
Finally, you want to make sure you add interactive elements to your livestream, whether that's by adding chat people can use to ask questions, or y breaking up your livestream with polls, quizzes, raffles, etc. that encourage participation.
4. Make Sure Your Website is Branded
Did you know that donors are more likely to give you more if you're website is branded, mobile-friendly, and engaging? It's true!
In fact, donations made on a branded form average 38% larger than contributions made through a generic page, and 51% of people who visit a nonprofit's website do so on a mobile device. Those two fundraising statistics alone show how important having a great donation website is.
The good news is that the right fundraising platform should make it easy for you to add your organization's logo (which is even more important is you're part of a larger organization like Big Brothers, Big Sisters or Boys & Girls Clubs of America), a great impact statement, and a customized banner for your event. A great fundraising platform should also make it easy for you to add videos, your nonprofit's branded colors, and social sharing, all of which are important to creating the level of experience that today's donors have come to expect. If you're ready to explore your options, sign up for a free one-on-one demo to see if Qgiv is the right fit for your organization!
5. Keep Up Engagement
While branding should be easy with whatever fundraising platform you choose, making sure it's engaging and interactive during a virtual event can be harder. That doesn't mean there aren't plenty of nonprofits to pull inspiration from!
St. John Center for Homeless Men recently added some engagement to their Raisin' the Rent event with virtual house parties! To up the ante, recognition was given out to the party with the most guests and the party that raises the most money.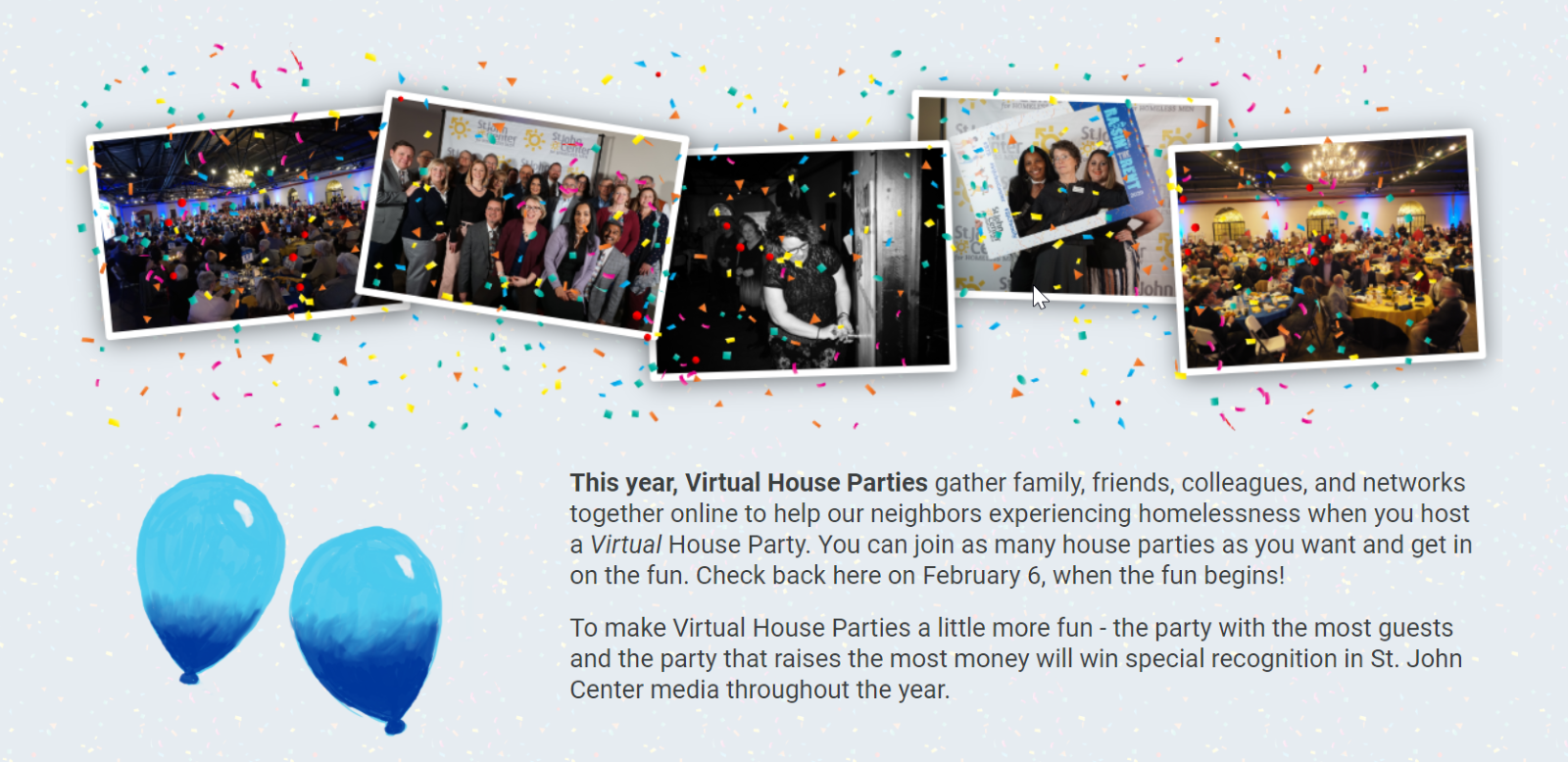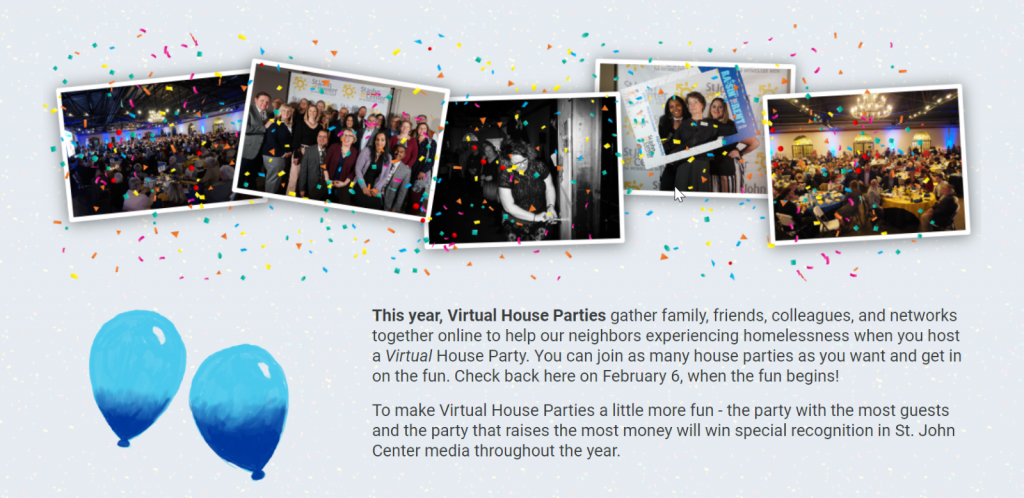 This idea is easily transferred to an education fundraiser, with the added benefits of giving your students another way to connect with far-flung family and friends during a pandemic. Bringing people together + raising money for a great cause = a win-win to us!
Big Brothers Big Sisters of the Bluegrass' Scavenger Hunt for Kids' Sake is making their event more interactive by simply by adding a scavenger-hunt specific app called Eventzee. Participants use the app to communicate with teammates, so teammates don't have to be in the same room (or even the same state), making it a great way to get far-flung grandparents and other student champions involved.

You can also add engagement by adding raffles and silent auctions, by sending your participants props and goodies to be used in connection with your virtual even, gamification and leaderboards, incorporating an app into your event, and by adding sub-events to your main event.
6. Venue Management for a Virtual Event?
Venue management is less related to the physical space your event takes place in, and more related to making sure the experience you intend to deliver is the same one your participants receive. With a virtual fundraiser, venue management entails setting up and managing the online experience for your guests.
Making sure this experience goes well includes everything from making sure you have clear instructions and expectations laid out for your guests to coming up with a back-up plan for technology glitches. You can learn more about venue management (and how it can help make sure your fundraising is a success) by checking out our venue management guide.
7. Have the Right Staff in the Right Place at the Right Time
Staff requirements may be different for a virtual event, but there are still plenty of roles to be filled! You'll want to have someone dedicated to keeping things interesting on social media, a dedicated point person (or persons) for participant questions, and a charismatic MC who can keep people engaged while hosting the event! You can learn more about deciding your staff assignments on the blog!
8. Allow Alternative Payment Methods
No, we're not talking about the tried-and-true "change" fundraisers that school often do (which still work, btw). We're talking about meeting your donors where they're at and letting them donate in the way that's most convenient for them in our ever-changing world.
While we're still on the fence about accepting cryptocurrencies like Bitcoin as donations, there are plenty of ways you can offer new payment options to your guests. For example, Qgiv integrates with Paypal, allowing you to take advantage of Qgiv's customization options while letting your guests use the Venmo integration that Paypal offers.
Being able to accept donations via ApplePay is another popular options donors ask about.
9. Promote Your Virtual Fundraising for Education Event
Promoting a virtual event isn't really any different than promoting an in-person event. Even print materials can come in handy for promoting virtual events when you're fundraising for education! Here are our favorite tools to use when promoting virtual events:
Email.

Educational nonprofits tend to have a little bit more of an advantage when it comes to having your most fervent supporters on your email lists: parents! Not only do you want to send parents

an invite and updates via

email, but

help them advocate for their students better by offering a way they can promote the

event for you in each email.
Even better, if you segment your list, you can send one set of emails to parents … and another email to major donors … and a separate one to your monthly donors. Tailoring your emails to the specific audience you're speaking to is so simple with the right fundraising tools, but can go a long way towards making your donors feel appreciated.
Text m

essage marketing.

Text messages have a 98% open rate, yet it's still a vastly underused tool. While the rise in lawsuits over unsolicited texts is partial

ly to blame (having a

strong opt-in policy

solves that), part of it is just not being sure when to use them.

And those possibilities are endless!
You can send out everything from save the dates to a post–event re-cap that thanks your donors and let's them know how much they helped you raise (and what your organization is going to be able to accomplish with that money). The key is just to keep it short and sweet, and make sure that any pages linked to from the text are mobile-friendly!
Print materials.

While you're less likely to be creating mass quantities of flyers and posters to get businesses to display in their windows, but that doesn't mean print materials are useless for an education fundraiser. After all, many schools and program

have at least some students attending class in

person, and

sending home an informati

onal flyer is a great way to make sure information about the fundraisers make it into the hands of the parents.

Press releases

.

Just because your event is virtual, it doesn't make it any less important to the community. Your community

wants

to know about your event

so pitch it so community blogs, weekly local magazines, and the events section of your local newspaper.

You can also reach out to parents who work in marketing or public relations

and see if they have any contacts that may be interested in writing a story on your nonprofit!
Check out our latest press release to get an idea of the format to use when crafting your first press release.
Social media.

The

list of ways to promote an event on social media is almost

unending

. You can start by creating a Facebook event for your virtual fundraiser, and then using a video to announce your big soiree (vide

o gets the most engagement on social).
From there, you can use social media to tease auction items or guest entertainers for your event, or you can post fundraising leaders if you're running a peer-to-peer event.
One of the best things you can do is allow your supporters do the talking for you through user-generated content. This might mean reaching out to a former participant that's now a business leader in the community and asking them to record a video talking about how their participation in your program helped them succeed. Junior Achievement does a great job of highlighting their past participants who have gone on to do big things (Mark Cuban is one prominent example).
You can also create user-generated content with your current students. How tickled would a major donor be to see a video from students thanking them by name?! Put on your creative fundraising cap, and think of all the funny, silly, and downright adorable ways you could have your students participate.
Just remember to produce different types of content to keep your audience engaged, and don't over-post (everyone gets bored seeing the same thing over and over again).
And finally, one of the most important ways you can use social media to promote your event is also the simplest. Just make sure social sharing is set up on your event page, and let your supporters get to work promoting your event for you.
10. Know Your Post-Event Communication Strategy Before Your Event Starts
Before your event even starts, you want to make sure you have your post-event communication strategy in place. This means you'll want to have a plan for thanking your donors (again, since they should have gotten a thank-you email shortly after they donated), and for letting them know how much they helped your nonprofit raise.
One creative method of doing this comes from Catholic Inner-city Schools Education Fund (CISE), who recently updated their event page with a post-event message that explained how much the event raise, and how the funds would make a difference in the community.
You'll also want to send out a post-event survey. This is how you'll know what went well at your event, and what parts your participants weren't that fond of. And if you leave a blank field for comments, you may just get some ideas for fun activities to incorporate into next year's event!
Final Thoughts
Even as people start going out to more and more in-person events, we think virtual (or hybrid) events are here to stay. After all, so many nonprofits have found that they can get the best of both worlds by offering at least some virtual components to their guests, and that's just as true when fundraising for education as it is with any other cause.
If you need some more items for knocking your next event out of the part, we hope these additional resources will help you plan your most successful fundraising event to date: